Or perhaps this story should be "How Angels Fly." As usual click the title to view the AAC website. Very rarely in life do we find something intrinsically "done right" In the case of the AAC Angel we witness the hard labor of love to create an aircraft uniquely and innately woven into the fabric of STOL flying in remote and rough places. That also usually delivers outstanding utility and load lifting capability for it's class. And does so in a very graceful way:
At first glance one wonders how an elegant looking prop aircraft is so suited for this demanding role. A quick look around the aircraft gives away it's attributes. Large long span flaps:
Capable of over a 1900lb. load: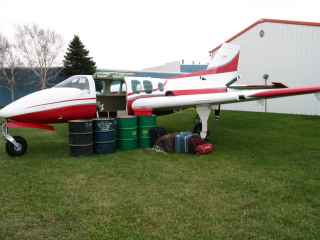 With a big beefy tricycle landing gear to soak up rough terrain. And a big double door access:
Powered by a pair of tried and true Lycoming IO-540's this planes reeks and oozes reliability. Helping endowing the aircraft with a STOL take off over a 50ft. obstacle in a meager 1404 foot run. And clear a 50 ft. obstacle in 1046ft on landing. And something rather unusual is this craft can throttle back to 35% power and cruise a mind boggling 13.1 hours covering 1270 miles. Not your normal short legged STOL bush hopper for sure. Need a great plane for Labrador? Call AAC.